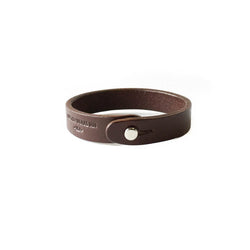 Leather Works Minnesota
Single Wrap Cuff - Chocolate Brown
We cut this cuff from 8-9 oz. hides. It's sturdy enough for everyday use, classy enough to accent semi-formal wear, and pairs well with other cuffs or bracelets for a stacked look. Our cuff looks good on everyone. We bevel the back for comfort, and the edges are burnished by hand.
Dimensions: 8" X 1/2" 
Please contact us for questions about wrist size. 
MONOGRAM EXAMPLE